HELEN News
CALL FOR APPLICANTS: The Political Determinants of Health Learning Laboratory Program
April 20, 2021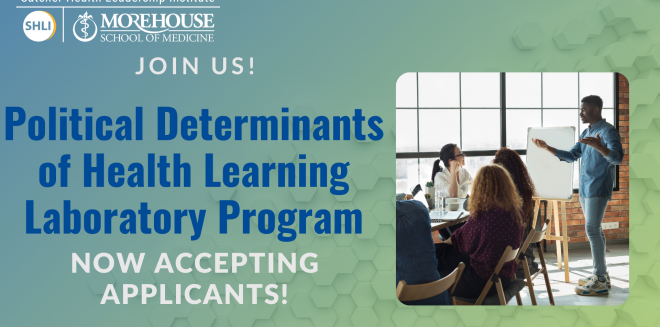 PURPOSE
This initiative seeks to mitigate the impact of COVID-19 on vulnerable communities by mobilizing elected/appointed officials, and community leaders to advance health equity interventions, programs, and policies in their respective jurisdictions. A selective cohort of policy officials and community leaders will be challenged to create actionable steps toward alleviating disproportionate health outcomes by utilizing the Political Determinants of Health (PDOH) framework. Elected/appointed officials and community members will be better equipped to develop and implement actionable solutions to close the health gap.
PROGRAM
SHLI seeks to partner and support diverse groups in building equitable and sustainable pathways for healthy communities, by providing an opportunity for leaders and community champions to enhance skills in policy and health equity. The training will foster community partnerships between the participating officials and their partnering Community Based Organizations (CBOs). This established team will be equipped with tools to examine the PDOH factors influencing their respective local communities. Additionally, each team will develop a health equity initiative or proposal designed to address identified conditions unique to their local
populations and communities.
Upon the successful completion of the training by the collaborators, each partnership team will receive a $20,000 grant to implement
their proposed health equity initiative utilizing the skills obtained from the Learning Laboratory. This complimentary, empowering partnership training will have semi-monthly, virtual sessions beginning in June 2021, continuing through May 2022; engagement
commitments will be approximately eight (8) hours each month.
Full application packets are due by May 3, 2021 at 11:59 pm EST.